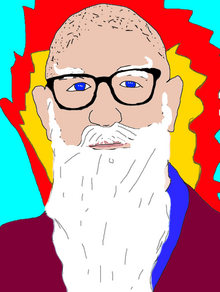 Perell is a wizard, previously trapped in The Box after being contained there at or about the time magic disappeared from the realm ("the Somethinging(?) listen again later for details/nap)
Although ordinarily being an intangible projection, he has managed to manifest via Billie several times and use him as a conduit to perform powerful magic.
SEASON 4 SPOILER WARNINGS BELOW
Due to shoddy narration, Perell did not receive a description until midway through this season. It was eventually decided he looked basically like Stanley Tucci "but with a beard". After review, the GM actually said "Stanley Tucci but with a moustache", but I'm not editing that picture. Fuck you, you're not even my real Dad.
Perell was released from The Box at the conclusion of Season 4. Here he demonstrated his immense power by shattering a sheet of stained glass Tuck had already hit with a magic axe. Were Stanley Tucci dead, he would obviously be rolling in his bloody grave. Disgusting.
POWERS AND ABILITIES

[

]