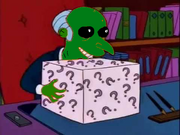 THE BOX is something that nobody knows what it is. Billie thinks that it is "cool". It is looted from Emperor Morgulch (pictured right) at the behest of Mayor Boggins, the first mayor to order the party about. 
When attempting to find out what the box contains, Abdul fails a roll meaning Tuck believes the box contains a wish-granting genie. This is obviously ridiculous; the box actually contains a desire-granting wizard. 
There may or may not be poop in the box. It's best to just not ask at this stage.